How to reach us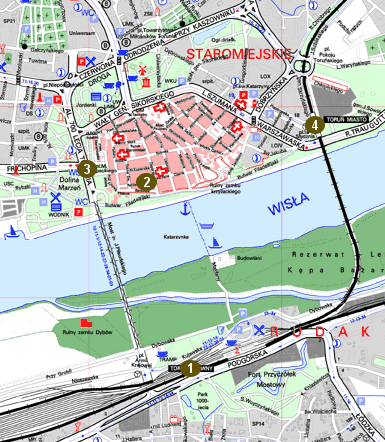 Nicolaus Copernicus Astronomical Center's building (a renovated 16th century gothic apartment house) is located in the very center of the Old Town, at the
Rabiańska 8
street
(2)
.
By train
The Polish Trains (PKP) time-table is available
here
. You should get off the train at the Toruń Central Station (Toruń Główny)
(1)
. Then, you take a
MZK bus (look for lines departing from DWORZEC GŁÓWNY)
number 11, 12, 22, 25 or 27. The ticket costs 2.50PLN (October 2010) and can be purchased either at a newsstand (kiosk) or in the bus. Get off on the 3rd stop (Plac Rapackiego), just after crossing the bridge
(3)
. We are just a 5 minutes walk from there. Turn right towards the Old Town, and take the streets : Kopernika, Św. Ducha and Rabiańska.
Those arriving from Olsztyn, may want to get off at the Toruń City Station (Toruń Miasto)
(4)
for a 15 minutes walk alongside the Vistula river. After leaving the station take the streets: Bulwar Filadelfijski (rivershore, westward), Żeglarska, Rabiańska.
By coach
The Polski Express and Komfort Bus companies offer frequent (each 1-2 hours) connections between Warsaw and Toruń.
By car
You can reach Rabiańska street by car via either Piekary street (from north) or via Bulwar Filadelfijski street (from south). On weekdays, till 18:00 you have to pay for car parking. The Old Town is virtually a traffic free zone - watch the signs. Main roads linking Toruń with other cities are shown
here
.
By taxi
To order a taxi in Toruń call : 1919x (x = 1..9). CAMK is located in front of "Czarna Oberża" (~ Black Auberge).
By plane
The main hub in Poland is
Warszawa-Okęcie
(200km from Toruń) with many daily international and domestic flights. The trip from Warsaw to Toruń takes 2.5 hours by car, 3 hours by train or 4 hours by coach.
The airport closest to Toruń (50km distance) is
Bydgoszcz-Szwederowo
with daily connections to Warsaw, London (Stansted), Liverpool and Dublin.